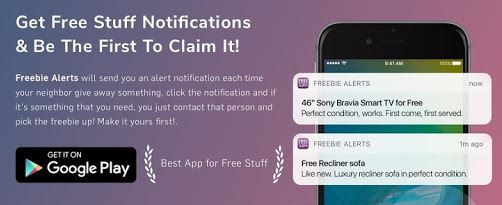 Free Stuff Alerts for Craigslist, Letgo, & offer up, also known as Freebie Alerts, is a social app that alerts users about free items offered in their area. Just as the name implies, the app notifies you when people in your zip code offer things on Craigslist, Letgo, OfferUp, and other websites.
When you first install and download the mobile app, it prompts you to enter your zip code. By adding your zip code, the app lists free offers in your city or county nearby. At the bottom of the item, it will list when it was posted and how many miles away it is from your zip code. On the home page, the app lists free items from Craigslist, LetGo, and OfferUp. You can scroll down the page to look for items that interest you. From pianos to fences, the app lists all sorts of items to choose from. You can even use the search bar at the top of the app to find specific items.
Free Stuff Alerts for Craigslist, Letgo & offer up
Price: Free
Category: House & Home, Social
Version: Varies by device
Developer: Freebie Alerts - Free Stuff Alerts

Uninstall the app:
1. Go to Settings menu
2. Choose Apps or Application manager
3. Touch the app you want to remove
4. Press Uninstall.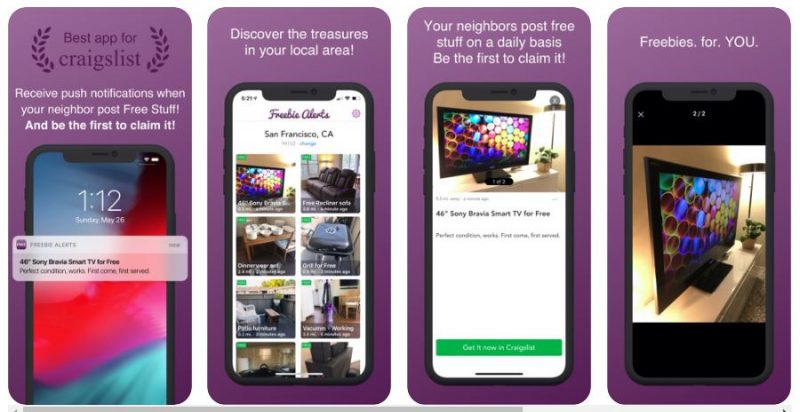 While you scroll through the app, you will see some advertisements tailored to your local area. If you click on the settings button in the top right-hand corner, you can turn the ads off. You just have to get a "Gold Subscription" and pay $9.99 per year to do so. You can also turn off notifications or filter them through the settings. At the top, you can turn off the notifications by switching the "push notifications" button. Filter your notifications by pressing the "whitelist" button. By adding words to the whitelist, you will only receive notifications about free items that match the words you put in.
Benefits and Highlights
Who doesn't like free stuff? With a 4.6 star rating, many agree that this app is worth checking out. One of the biggest benefits of the app is that it lists free stuff from a few websites and places them into one list. Instead of having to look through websites by yourself, the app lists items in your area and notifies you when they are available. It is a one-stop-shop of free stuff tailored just for you. If you ever move to a new house or commute to work, you can change the zip code in the app to notify you about things in your new area.
A couple of other highlights for the app are the search feature and whitelist option. With these two features, you can customize the app to notify you about what you want and search for what you want. Just type in the item you're looking for, and then the app will list where you can get the item for free. As for the whitelist, you can type in multiple words, so you will only get notifications when those items pop up. It is a win-win for anyone who wants to get free items without having to search forever to find them.
My Take on the App
This app is rated 4.6 stars for a reason. It is nearly perfect! My only big gripe with it is that I had trouble figuring out how to filter notifications. When you first download the app, you can get a lot of notifications depending on your location. If you live in a bigger city, you might get tons of notifications for free items that are farther away from you. Since your city is bigger, there will be more people posting free stuff. You can widdle down the notifications by adding words to the whitelist, but even then the item might be listed by multiple people. After using the whitelist, some people might post items as "free," but they want you to pay for the item. This happens very rarely and isn't the app's fault, so it isn't something to worry about too much.
Overall, the Freebie Alerts app lives up to the hype of its reviews. If you're looking for free stuff in your area, this app is a must-have. Despite its minor flaws, the app delivers by doing exactly what the title claims it will do. Install the app today to start getting alerts for free stuff near you!